Fast-Track NCQA-PCMH Recognition
i2i Population Health has the knowledge of the process, the professional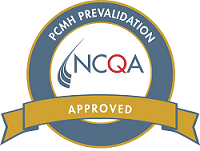 services to enhance your efforts, and the technology to help you reach your goal of PCMH Recognition faster and with greater confidence of success.
i2iTracks 7.4 and i2iTracks 7.6 have achieved NCQA's Patient-Centered Medical Home (PCMH) 2017 Prevalidation status after completing an extensive review process with NCQA. Because we are familiar with NCQA's standards, we can provide guidance on the types of screen shots, reports and evidence to submit through the Survey Tool.
In meeting your NCQA-PCMH Standards, i2iTracks is the leading population health intelligence tool that helps you create reports on the percentage of patients receiving preventive service, identify high-risk patients and share the criteria.
PCMH Toolkit with Pre-loaded Software Expedites the Process
To help you in your process, we created a PCMH package of pre-loaded i2iTracks searches, reports and other components that support specific standards. The i2i PCMH Toolkit combines this package of prebuilt items with user guide elements, software and professional services that help to fast-track your organization toward being on-pace with NCQA's requirements.
Health care organizations can rely on their Electronic Health Record (EHR) systems to initiate the process, but achieving Level II or Level III Certification is near impossible without the population health intelligence functionality that i2iTracks delivers. Most health plans reward higher levels of Recognition with higher levels of reimbursement – some as much as double or triple reimbursement for Levels II or III Recognition. If you implemented an EHR system and you are seeking to improve your organization's PCMH Recognition, contact i2i Population Health for a demonstration of how i2iTracks supports PCMH.